Cappadocia is one of the leading places for romantic getaways for two, especially at weekends. The fact that fairy chimneys, which can be seen in several different parts of the world, are more common in this region and its history full of myths also increases the interest to the city. Gastronomy culture and outstanding flavours are another aspect that makes this city attractive. There are a lot of places to visit in Cappadocia. Since it is a place when someone who visits once wants to come back, it offers a different adventure in every visit. Going on a time travel alone in this rich geography can be very enjoyable, even if it sounds unusual. If you want to experience dual or group activities by yourself as well, welcome to the land of beautiful horses.
Göreme
Goreme, the apple of Nevsehir's eye, is one of the oldest settlements. Therefore, there are many monasteries and churches. The most popular of these, the Snake Church is in this region. Having motifs and frescoes belonging to different religions is one of the most important features of the church. An open-air museum surrounded by valleys and fairy chimneys, Goreme is one of the most popular travel routes and has been on the UNESCO World Heritage List since 1985. One of the first activities that come to mind here is, of course, hot-air balloon tours. Especially getting on the hot-air balloon during the first lights of the day gives unforgettable moments to those who watch the city from a bird's eye view.
Also known as an ancient city, the region features many historical ruins. The Sandal Church, built in the 12th-13th century, is also on this route. The large and long motifs inside the church are of a fascinating beauty. Another place you can visit is the Buckle Church nearby. It's the oldest known cave church in this region. It is a building that still preserves its magnificent beauty with its frescoes of Jesus and the Virgin Mary.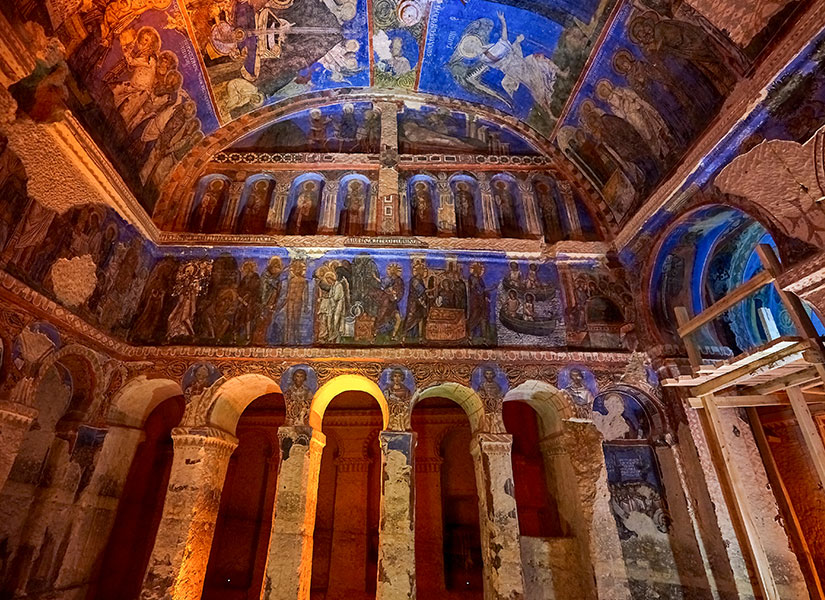 Horseback Safari in Cappadocia
Would it be logical to come to the 'Land of Beautiful Horses' and leave without riding a horse? To spice up your Cappadocia trip, you should also explore this beautiful city on horseback. The riding road, which consists of canyons and valleys, starts from Goreme and continues through Love Valley (Ask Vadisi) and then Kizilcukur Valley. The unforgettable activity for those who have done it before can become more meaningful here for the ones who will ride for the first time. After a short training, you will be guided during your ride. Other regions most suitable for a horseback safari tour are Rose Valley, Kilic Valley and Guvercinlik.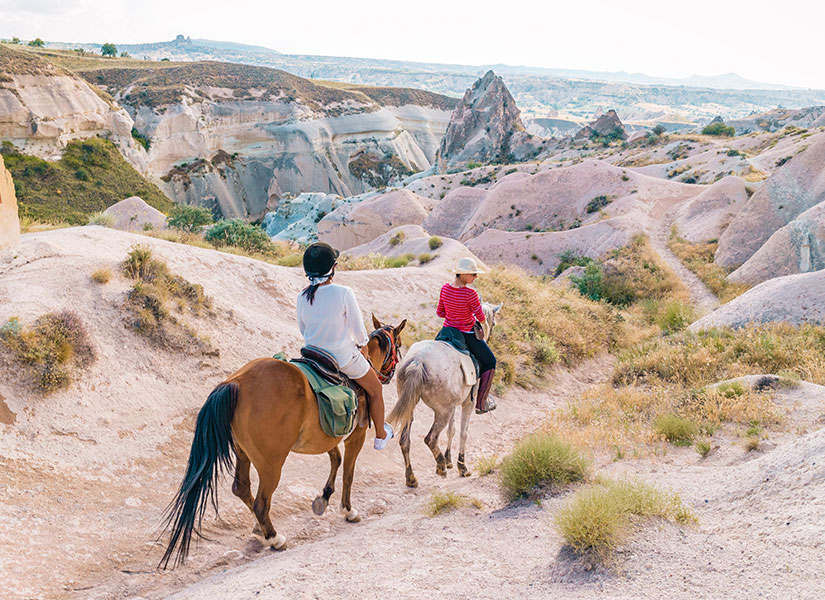 Kızılçukur Valley
Probably, Kizilcukur Valley is the most beautiful spot for a magnificent sunset in Goreme. To reach the Red Valley, you must cover a distance of 4 km. This is an area great for walking. While walking, you must first use the path leading to the Uzumlu Church. There are traces of the Seljuk era in the architecture of the church, which dates back to the 19th century and still preserves its structure. The beauty of the monumental paintings on its wall will fascinate you. After leaving the church, we have a little further to go. Although passing takes time as there are many recesses and ridges, the view to be reached at the end is more than worth it. The peerless scenery, which brings together the valley and fairy chimneys, combines the redness of the evening with shades of green. A perfect beauty that will make you forget to take a picture. It's would be great to just enjoy the moment and be with yourself for a bit.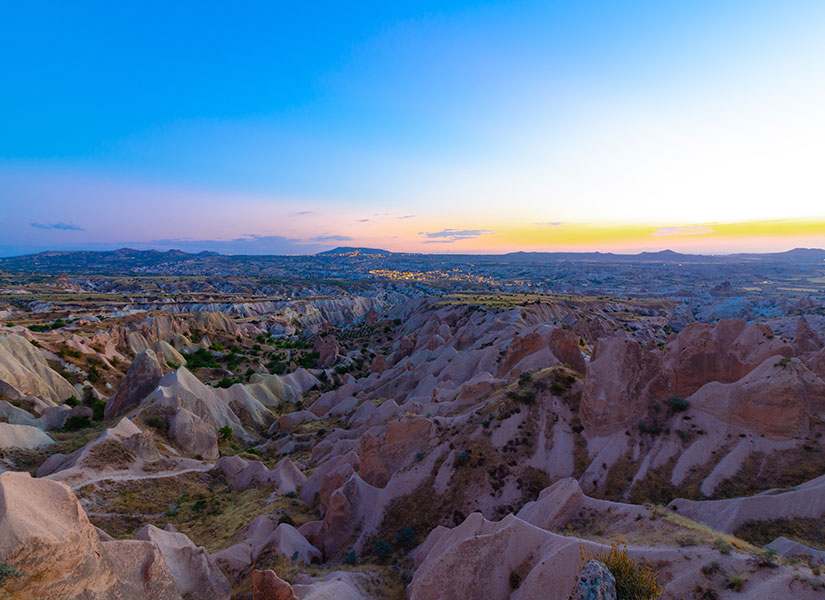 Pasabag Fairy Chimneys
Fairy chimneys in the Pasabag Valley between Goreme and Avanos are mostly mushroom-shaped and have conic stems. Fairy chimneys are very dense in this region compared to other parts. When you enter the valley, there is a nice walking track amidst the fairy chimneys that welcome you with all their beauty. One of the best activities here is to take beautiful pictures while hiking. The structures carved into the rocks are another remarkable asset. It's possible to frequently encounter old places such as churches, monasteries, mills and chapels. Here is also called the "Valley of the Priests" as it was a place of seclusion from the ancient period.
Yoga at Sunrise
If you are doing yoga and looking for a more peaceful place, you should definitely experience it in Cappadocia. The valleys here have a different feel in this sense. It has become a little more common lately and has turned into a small group activity here. There are also travellers who come here only to do yoga. If you are one of those who want to be alone while doing yoga, it's possible to find many places where you can do yoga alone in the mysterious valleys of fairy chimneys. Enjoying this peace, especially against the hot-air balloons rising in the morning, is one of the best ways to start the day here.
Pottery Making in Avanos
One of the three central touristic spots of Cappadocia, Avanos is another place that fascinates visitors with its history dating back to the Hittites. Pottery making, which is experienced by most of the people who have visit here and which we frequently see in photos, is actually an art in itself. Making pottery, which seems easy and charming while watching it being made by master potters, becomes very fun when tried for the first time; believe us you don't realize how time flies here. A tradition inherited from the Hittites and continuing for centuries, pottery making is a nice activity to meet new people and have a pleasant time on this trip you come alone.