One of the most preferred activities of travellers who set off on an unplanned holiday is a camping trip. Staying comfortably overnight or more and then setting off to another location at a moment's notice will bring new discoveries within your reach. This taste of nomadic freedom will become a habit of a lifetime. Experiencing natural life up close, exploring nature mindfully, making new friends or staying by yourself… There are so many options for camping, open-air or mobile home, tent or glamping. The beautiful bays of Marmaris should be on your list of indispensable destinations for an adventure-filled holiday, where you can travel the open road without limits.
Bördübet Kamp Alanı (formerly known as Bördübet Campsite)
Bördübet, also known as Amazon Bay, is a family-run operation since it was opened in the Gokova National Park as a simple campsite in 1980. The resort offers opportunities to explore both sea and land, places that camping lovers will be very delighted to discover. One of the most ephemeral treasures of this location is the peaceful avian soundscape… so much so that local lore claims British soldiers — who took refuge here during the war — gave it the nickname "Bird's Bed". Curving inland from the sea, the stream takes on a fairy-tale beauty as it winds through the lush forests. The bay, which is optimal for sports such as windsurfing and canoeing, is also very suitable for mountain biking and trekking. Glamping, one of the more recent camping trends, is also available here. If you are a traveller with a fondness for rustic camping culture, Bördübet also allows you to enjoy the solitude by independently setting up your own tent. The day begins with the sounds of birds and ends peacefully under the bright stars.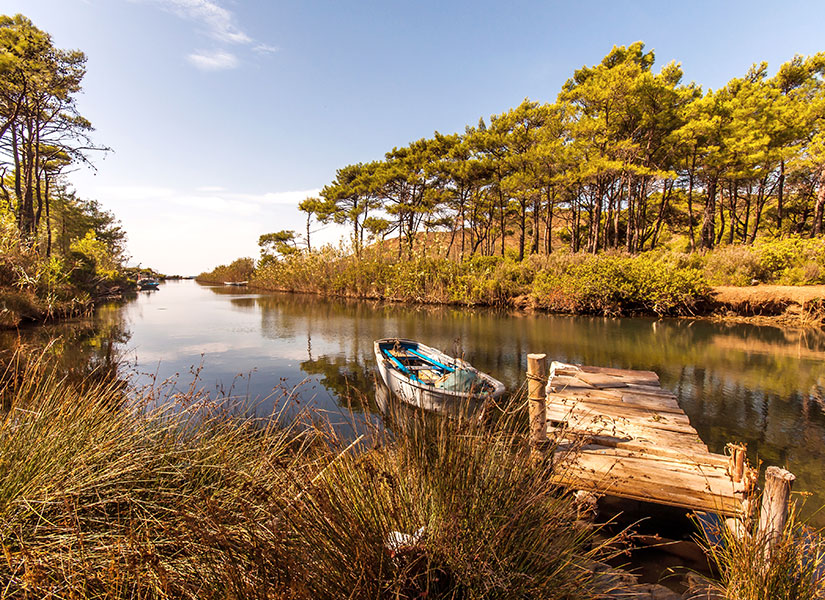 İçmeler Capsite
If you're one of those people who grabs your backpack and hits the road at a moment's notice, another camping site to keep in mind is İçmeler. It's also known as Maliye (The Treasury) Camp. The sea, which has a shallow, sloping descent, is quite calm and a little cool. You should be alert to the fact that you might encounter some unexpected cliffs in parts of the water. The most tempting aspect of camping here is that the campsite is by the sea. There are designated areas for setting up a tent that can be used free of charge. İçmeler Campsite is reachable by a journey that will only take 15 minutes from the centre of Marmaris. Apart from the area where you can pitch tents, there are bungalow houses available where the views of Kelebek (Butterfly) Island and Marmaris Bay can be observed from different angles. The site is not open to caravan camping. 
If you are looking for a mellow retreat, bear in mind that the region becomes a little quieter near the autumn season, and of course while there you have the option to get away from the crowds; or you many choose to socialize in restaurants and different bars that are a little farther away. If you are looking for a comfortable accommodation alternative in Marmaris, İçmeler hotels, very close to the centre, also await you with options suitable for every budget,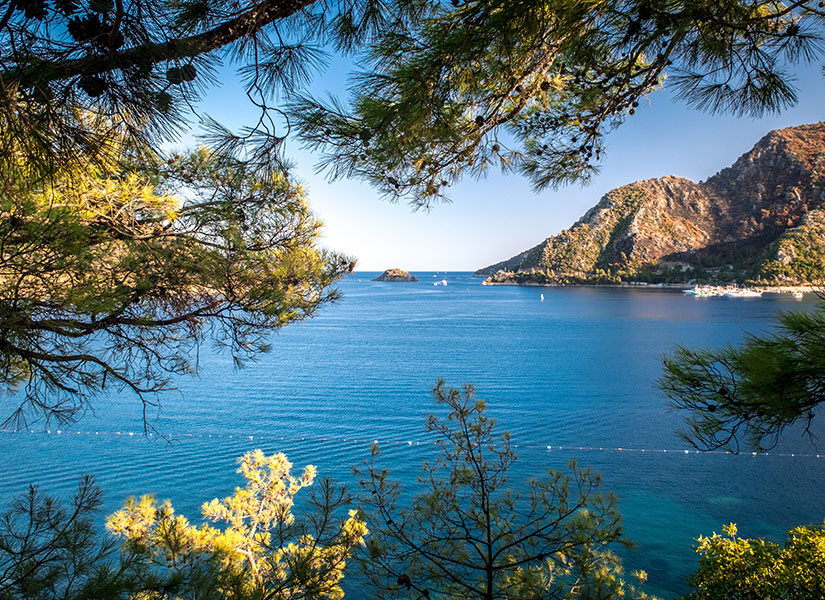 İnbükü Campsite
The İnbükü site, which you can also reach either by car or by walking from the Çubucak Natural Park, is blessed with wonderful bays. It's a locale that offers camping in the silence you seek, sounds muted by a cover of pine trees, with a magnificent sea view. You can take relaxing walks on the paths by taking in the greenery on one side and blue seas and sky on the other. The fact that there is no commerce to speak of in İnbükü, thus providing the possibility for caravan camping, offers you the calm environment you are looking for. Exiting the sea in order to sit down and read a book accompanied by the peaceful breeze of the pine trees is an otherworldly pleasure. Marmaris's famous Baca Mağarası (Chimney Cave), located nearby, is a favourite destination of amateur and professional divers. If you are interested in exploring underwater landscapes while you are here, Baca Cave can also be a complementary sightseeing excursion after the camping holiday.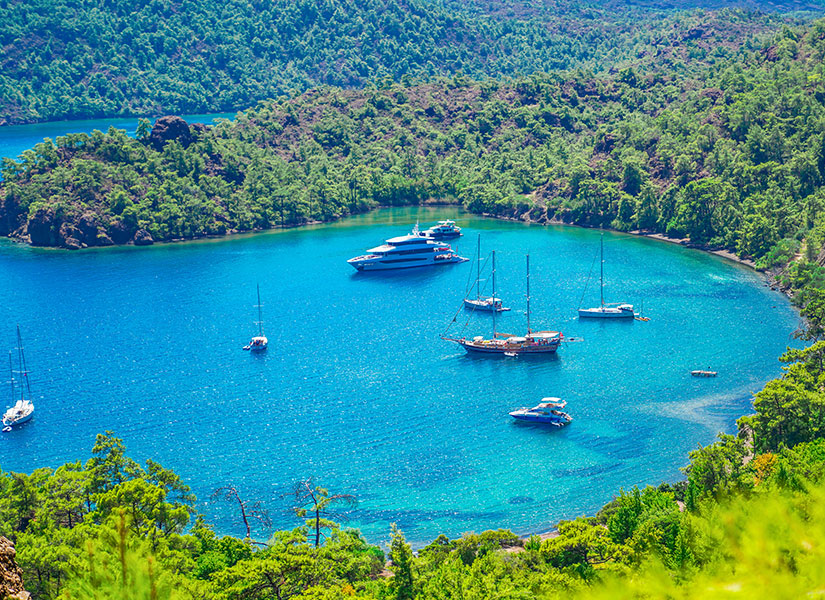 Akkum Bay
Akkum Bay, nestled into the coastline near Selimiye village in Bozburun municipality, is another option you can head towards for a camping holiday. As it is in a windless region, the sea is glassy and still. This feature makes it eminently suitable for boat trips as well as swimming and wading. Since the sea is shallow in this bay, you can comfortably enjoy swimming further out than you would expect to in other locations. Because there are no settlements and no businesses to speak of, Akkum Bay is listed among the quiet places of Marmaris. There are places to pitch tents at the back of the beach that will surely delight nature lovers. The sound of crickets and the slight coolness of the sea will add to the nostalgic memories of the summer evenings as you remember them in future times.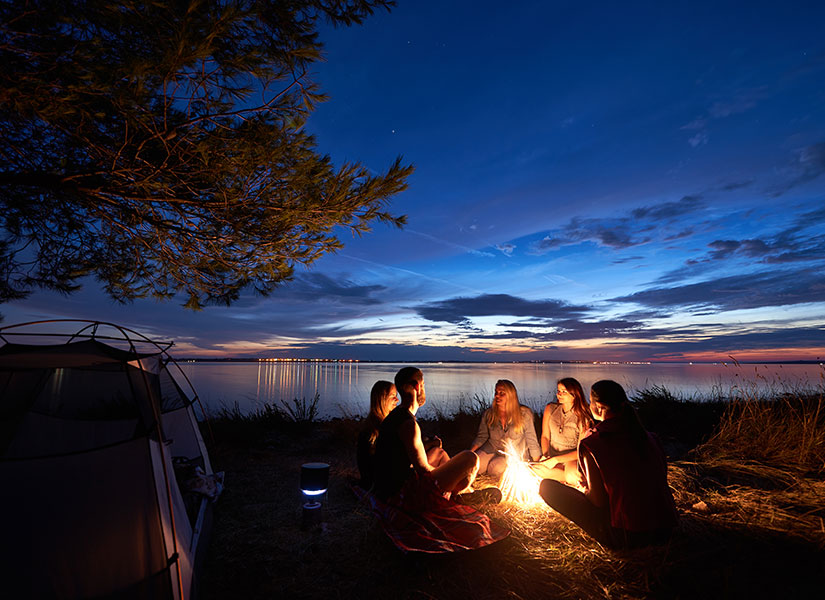 Günnücek Forest Camp
Günnücek, which is only 1 km from the centre of Marmaris and located in Marmaris National Park, is one of the places where every season is experienced in otherworldly beauty. The magnificent forest, home to laurel and sweetgum trees, serves as a nesting area for about 50 species of birdlife. The sweetgum trees, which are known as "günnük" among the locals and further give their name to the forest, are endemic to this region. They and the laurel are interspersed with red pine trees. As to the fauna, it's only a matter of time before you come across cute squirrels as you take a stroll through the extraordinarily rich forest. As you walk, look for the charming reflection of trees and leaves in the small ponds that appear here and there in the forest, creating a beautiful view. Günnücek, where you are lucky enough to opt for take both beach and forest walks, also promises coolness for those who are overwhelmed by the extreme heat of summer. For a pleasant nature camp where you can stay with a tent, you should definitely include Günnücek in your route list.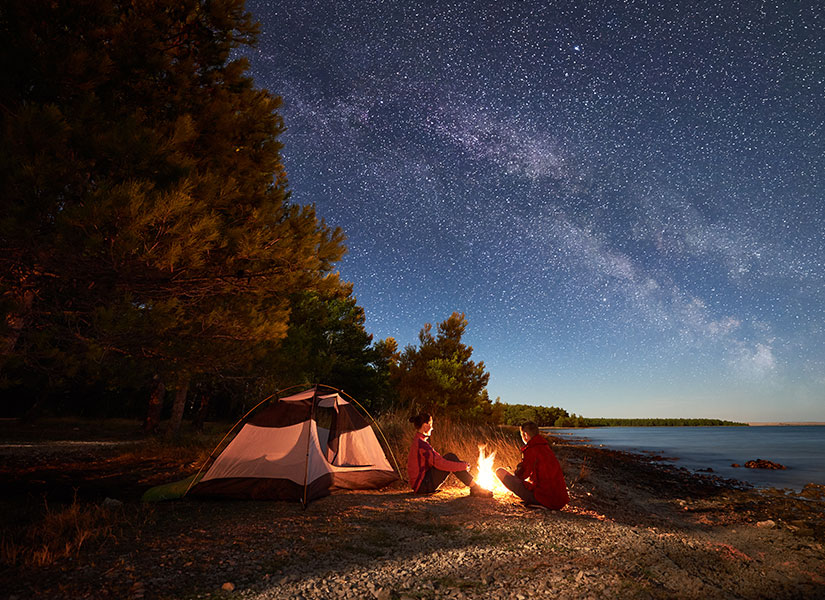 Çetibeli Forest Cammp
Çetibeli, on the 20th km of the road leading from Marmaris to Muğla, is suitable for the expectations of those who are more inclined to a forest canopy over the open coast for camping al fresco. By setting up a tent under the shade of red pine and plane trees, you will suddenly relax as the realization that you are immersed in this peaceful environment overcomes you. The depths of the forest make a great place for trekking, also has a beautiful route for cycling. In addition, you should absolutely plan to bring a mat with you when you come here, because one of the most suitable activities to prolong this serenity is yoga amongst the trees. Çetibeli is one of the places that can be considered either for short stays or day trips. If you have an active holiday plan rather than a stationary accommodation, this place is definitely worth a one-day visit.