Izmir, the Aegean Region's most popular city, has numerous beauties. Aside from the sightseeing spots and delicious meals, many other hidden gems are available in the city. With its stunning shores, Izmir is one of the most popular summer destinations. This lovely city has excellent routes where you may do more than just enjoy a seaside holiday!
Bays of Foça
Foça is notable for its many calm coves, as well as being one of the most commonly mentioned destinations for a relaxing seaside vacation. You may relax in the bays of Foça, which are waiting to be explored between New Foça and Old Foça. One of them is Çanak Bay. This may be the spot for you if you want to camp by the sea. It is also one of the calmest coves in Foça for swimming. Come prepared with water shoes because the sea floor in this area is a little stony. Another calm location that should be on your list is Sazlca Bay, which has many similar features: you'll want to lose yourself in the clear turquoise waters. The British Cape (İngiliz Burnu) is one of the most gorgeous beaches in this area. There are no settlements or businesses in the area; therefore, it is a fairly calm place suitable for tent and caravan camping. You should go if you enjoy cold-water swimming.
It is hard to describe Foça without mentioning Kosovo Beach, which has a lot to offer people who decide to go on a holiday or organize a spontaneous day trip. You should leave early in the morning to enjoy an unspoiled cove that is entwined with nature and have a fantastic time until sunset. It has a beautiful sea, and the water is a bit cool. Kosovo Beach is a must-visit if you're looking for a suitable camping location.
You may not want to leave this delightful spot that has many options straight away. Plan to take your time walking around. Hotels in Foça await you for a relaxing vacation!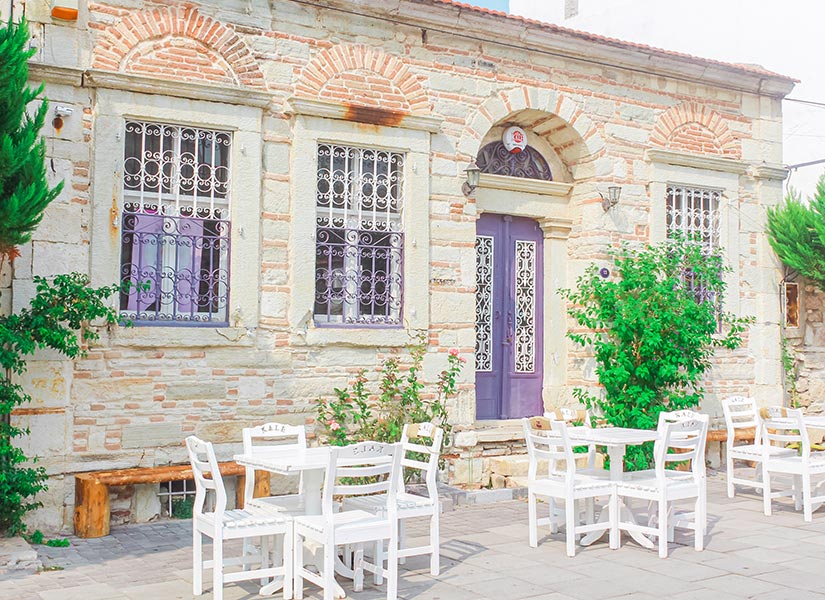 The Ancient City of Teos
If cultural tourism is something you are interested in, you should visit the ancient city of Teos. The Cretans built the city, which is the region's oldest settlement, in 1000 BC. Later, the Ionians resided here, and the city was further influenced by several other civilizations in the future. The city, which is one of the most prominent structures related to the Ionians here, served as the region's capital. At the same time, the first Artists Union in history was formed in this city. During an excavation in 2016, a remarkable 2,200-year-old inscription, which is an example of a leasing agreement, was discovered.
The ancient city of Teos is also a fantastic destination for those who enjoy trekking. You may hike around and take stunning photos of its pristine walls and columns. The city's amphitheatre is well preserved and hosts various concerts.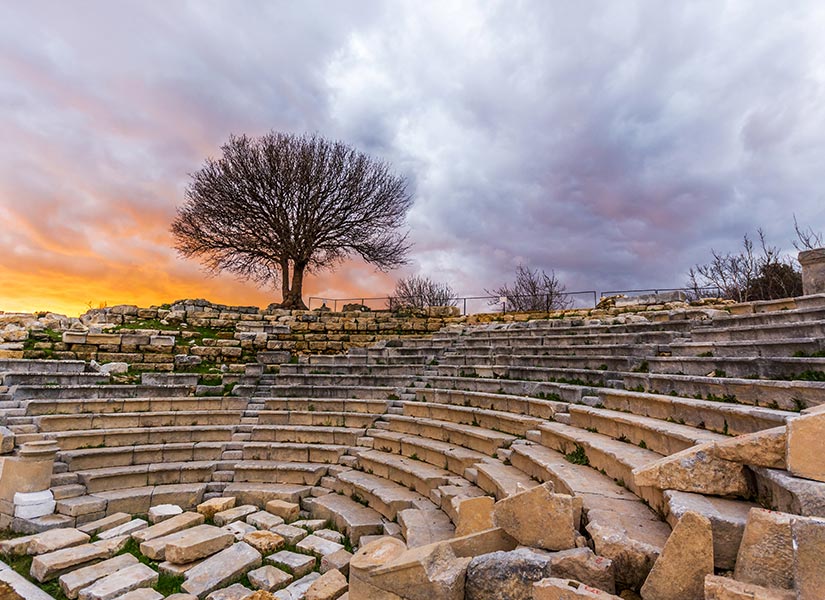 Balıklıova
Balıklıova is a pleasant and peaceful town in Urla. More than a century ago, the village, originally known as Polikhne, was a Greek village. It is approximately one hour from the centre of Izmir. The name Balıklıova is derived from an intriguing legend. The village got its name when the water suddenly receded for 7 kilometres and a plain covered with fish formed. Many seafood meals are available here, as the name — Balıklıova — suggests. In beautiful and modest fish restaurants, you may sample various delicacies while you watch the sunset. Imagine these flavours complemented with fresh Aegean herbs!
Some people come to Balıklıova for a calm vacation, and some come here just to get away from İzmir for a day. As a result, it is appropriate for all seasons of travel. Some come here to start the summer season earlier. You should buy Balıkova's delicious, famous Turkish shortbread (un kurabiyesi) when you go for a walk around the village. Manal Beach, one of the most beautiful beaches in the area, has clean water. Balıklıova is an excellent place to get away from the city, even just for a few days.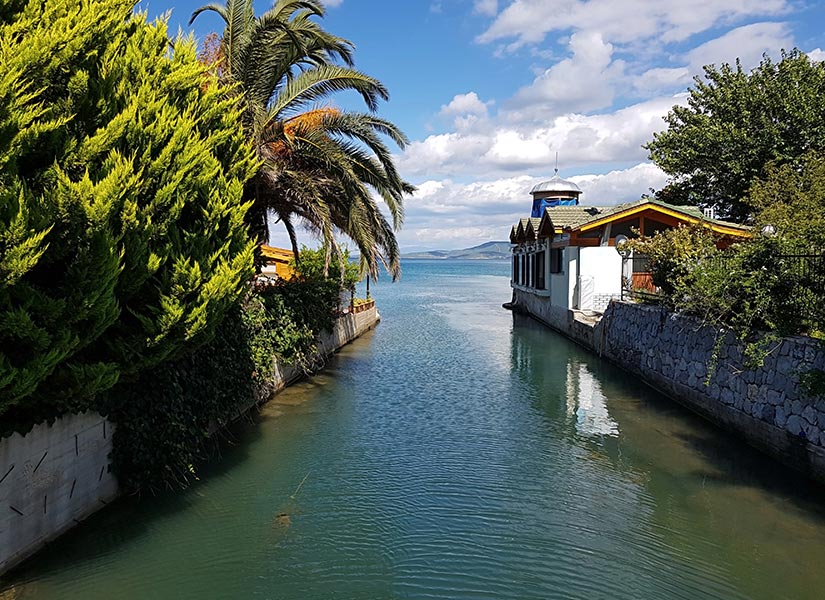 Yassıca Island
Yassıca Island, located in Urla, is near Çeşmealtı town. It is also known as Koyun Adası (Sheep Island) or Alman Adası (German Island). It is a tranquil atmosphere mixed with beautiful beaches and lush nature. It is feasible to arrive here through sea voyages that depart from Izmir at an early hour. You should come here in the early hours of the day to appreciate the full extent of the fresh air and water. Yassıca Island is one of the most stunning options for a peaceful island ambience mixed with green and blue.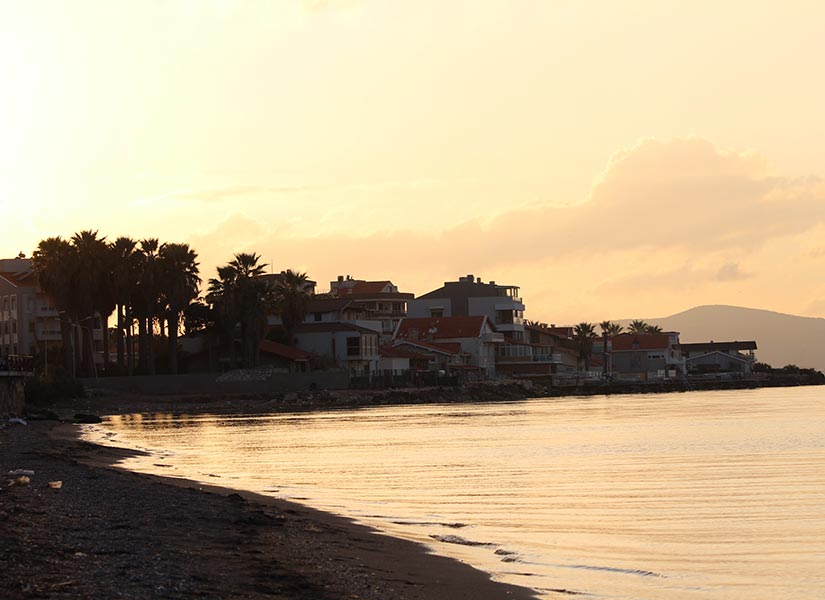 Bademler Village
The Urla district includes the village of Bademler, which was named after the almond trees that surround it. It is one of the most distinctive spots in the country, not only in Izmir. This village is well-known for having Turkey's first and only village theatre, but it also offers other attractions. The construction of the theatre started in 1925, and the theatre stage built in the village square in the 1930s has endured to this day. In addition to the theatre, there is an 80-year-old public library and a toy museum. Toys from various eras, ranging from 1860 to the present, are on display. The clean streets draw your attention as you wander through the village. The white houses in the village serve as helpful mirror to the clean streets. On Sundays, you can benefit from a village market that promotes local production. The most important source of income is olives. There is a vast selection of excellent olives available in the market. You should try the local Godalak bread, which is unique to this village. With its many attributes, this is one of the most modern villages in the country. If you want to get away from the crowds in Izmir and go on an unusual trip, you've found the right place.