Ayvalık is, without a doubt, one of the most peaceful places in Balikesir. With its great nature, delicious food, peaceful streets, stone houses, and the most gorgeous shades of blue and green, it is home to the one of the quietest corners of the Aegean. Here are the places you should absolutely visit in Ayvalk for a relaxing but fascinating break away from the crowds:
Cunda Island
You have arrived in Ayvalık's most enjoyable location: Cunda Island sports stone streets with historical textures, enigmatic houses, sincere people, historical buildings; in addition, a variety of tasty foods may be found here. It is impossible to completely describe Cunda's beauty and feelings. As a result, when travelling, the town generously offers each of its wonders, and everything unfolds on its own. Cunda is ideal for short-term visits; it is an excellent spot to get away from the city or to remain for a long weekend. Hotels in Cunda await you if you wish to stay in lovely stone houses or boutique hotels. It is one of the most beautiful spots to find tranquillity and complete pleasure.
Cunda Island  is ideal for gastronomic tourism. The greatest Aegean dishes can be found here, and Cretan cuisine is one of them. You should not leave without first tasting leaf mustard, radicchio, sea cowpea, zucchini blossom, and the flavour of a regional herb called cibes. Curd cookies and sherbet desserts are particularly popular on the island. Curd dessert with sherbet is delicious, especially when paired with gum mastic ice cream. On Saturdays, Cunda has a street where you can buy the different herbs of the Aegean region in all their freshness here.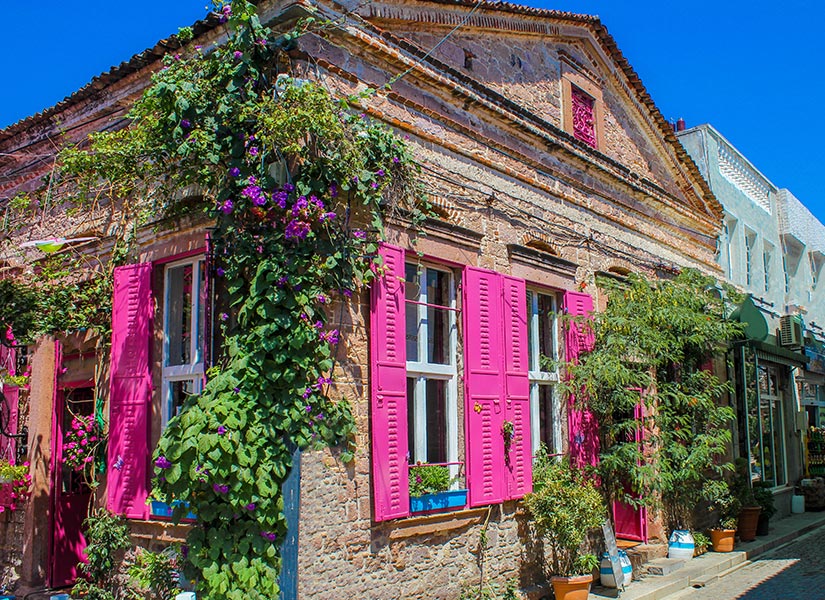 You should look at the stone houses if you wish to stay in Cunda. These lovely houses — unique to the region — captivate all who come across them. Stately stone buildings and fascinating Greek mansions are available. Lovers' Hill and Cennet Island Bay are must-see attractions in Cunda.
When you arrive at the shore, you will notice boats lined up side by side; you may take a solo tour by selecting one of the quiet boats. If you are with friends, you may rent a boat as a group and take a break at several bays while having a good time. It is a lovely feeling to be able to see Cunda Island from the sea and to look at the island from afar.
The Devil's Feast
It is impossible to visit Ayvalık without paying a visit to the Devil's Feast (or Devil's Table). There is almost certainly no one who is unaware of its reputation for scenery. The Devil's Feast becomes a little busy around sunset since so many people want to see the unusual view, but it is well worth it. Many small and big islands, including Lesbos, lay beneath their feet, providing a panoramic view. When you get here, you will see phrases like "the most magnificent sunset view in the world" and "the most gorgeous sunset view in the world" aren't simply cliches. There is a popular belief that the devil's footsteps may be found on the lava hill. This myth is supported by a big footprint-like shape. During the day, the Devil's Table provides a spectacular perspective – green and blue intertwined. The true view, of course, emerges after the sun sets. You may forget to take a photo, but you will not forget this view.
Rabbit Ears Hill (Tavşan Kulakları Tepesi) is the nearest spot of interest to Devil's Feast. There are two rabbit-ear-shaped rocks around 5 meters long on the slope. Rabbit Ears Hill's view is similar to the Devil's Feast's view.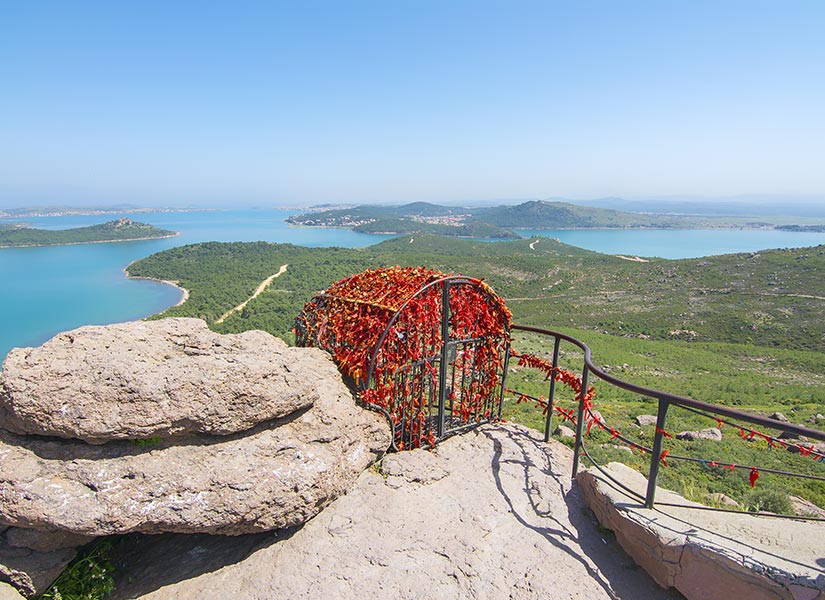 Sarımsaklı Beach
Sarımsaklı is located six kilometres from the city and is one of the first places that come to mind while thinking about Ayvalık. Sarımsaklı is the collective name for the area that includes 22 beaches. The golden-coloured beaches stretch for more than 5 kilometres. The glistening waters are a little cold. Boat cruises are a popular activity in this area. If you wish to visit the various coasts of Ayvalık, you may opt for a short sea excursion. At the same time, you may participate in water sports to make your sea vacation more enjoyable. The wind becomes more noticeable here throughout the month of August. As a result, windsurfing is commonly practised. Sarımsaklı's seafood is also well-known. In magnificent restaurants, you may try many types of seafood. If you prefer to be on a more calm shore, Badavut Beach, with its warmer water, could be the spot for you. You can feel the forest air while swimming against its lush nature.
If you want to see more of Sarımsaklı and its surroundings, you should book a place at one of the hotels in Sarımsaklı right now!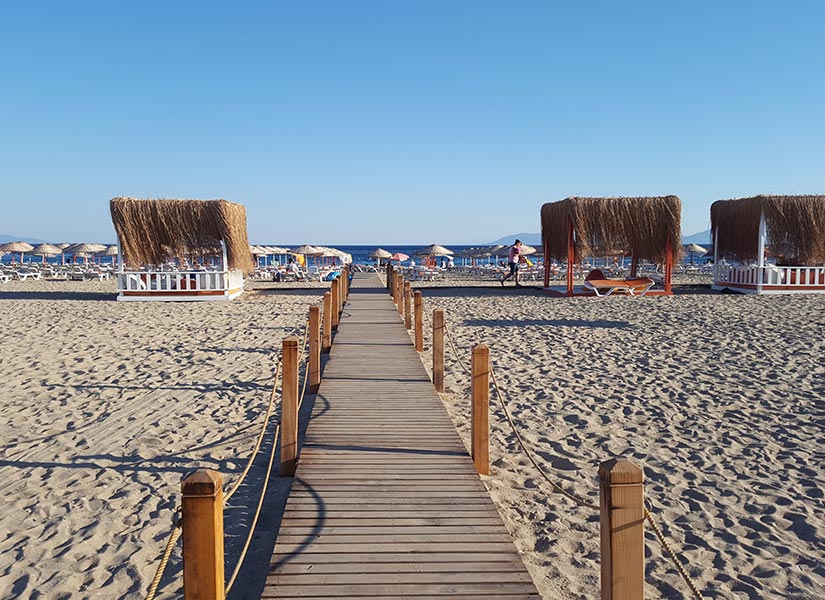 Taksiyarhis Church
Taksiyarhis Church, situated in the centre of Ayvalık, is the region's oldest known church. Taxiyarhis is a common name that means "archangel" and is usually seen in religious structures. In Greece, there are several churches with this name. Taksiyarhis Church is a must-see architectural structure. The exterior has a simplicity of its own, and its interior is wonderfully ornate, with neo-classical architectural features. Taksiyarhis Church is one of the monuments that demonstrate Ayvalık's rich history as well as its natural beauty.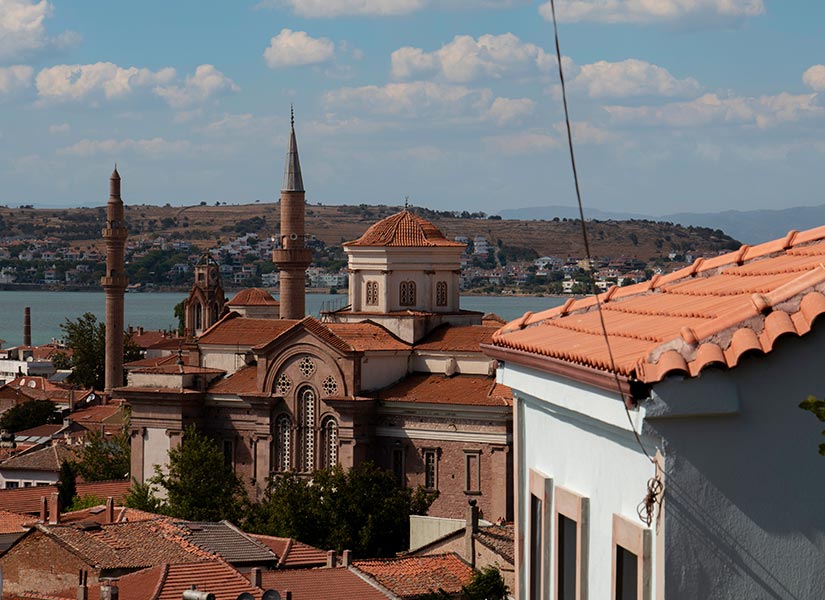 Ayazma Church
The Ayazma Church, which is situated in the centre of Ayvalık, is also known as Faneromeni. Its name, which means "holy water," derives from the water regarded as holy in churches. The church, which is one of the region's newest structures, was erected in a rectangular shape. The building, which reflects the neo-classical period, lacks an apse and makes little use of religious motifs. Yellowish Sarımsaklı stone (also known as garlic stone), which is particular to this location, may also be observed in the makeup of the church's structure. Ayazma Church is one of the many historical sites in Ayvalık that you should see. Ayvalık's stunning beaches, distinct flavours, interesting landscapes, and unique architectural texture await you for a colourful holiday at Ayvalık Hotels Odamax.