Important information
Check-in time 11:00 Check-out time 11:00
Guide dog accepted
Extra bed is provided.
Child accepted
Hotel do not accept pet.
Extra beds cannot be guaranteed for our guests staying free of charge.
Ahmet Ayık Kültür Merkezi 807 m
Hamam Falez 830 m
Ahmet Muhtar Kızıltan Kültür Sanat Merkezi 846 m
İncisaray Hamam Sauna 1989 m
Konyaaltı Belediyesi Halk Plajları 2055 m
Konyaaltı Atatürk Stadı 2141 m
Specially selected for search criteria!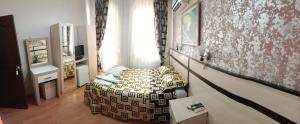 Twin, Pool view
Bed & Breakfast

Irrevocable

You can pay in 12 instalments
This room can accommodate a maximum of 2 adults and 1 children.
Children cannot be accommodated in this room.
For 1 Night , 2 Guest 1 Room Total Amount
650 TL
Languages spoken at the property
Slovenian

Norwegian

Turkish

Korean

French

Ukranian

English

Arabic

Russian

Dansk

Italian

Japanese

Lietuviu