Specially selected for search criteria!
Best option for 2 adult(s) at this property.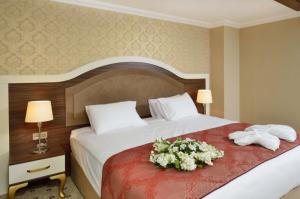 Standard Room, Garden view
Breakfast Included

Non Refundable

You can pay in 12 instalments

Available for 2 Adult(s) and 1 Kid(s)
All taxes except for accommodation tax are included in the prices.
Extra beds cannot be guaranteed for our guests staying free of charge.
Hotel Policies
Check-in time 14:00 - Check-out time 12:00
Extra bed is provided.
Child accepted
Hotel do not accept pet.
Hotel do not accept guidance dog.
What's Nearby
Kocaeli Valiliği İl Kültür Müdürlüğü Türk Müziği Korosu 7.34 km
Ormanya 23.83 km
Historical Places
Gölcük Belediyesi Kazıklı Kervansarayı Kültür Yapısı 4.59 km
Donanma Kenti Gölcük Belediyesi Yarhisar Müze Gemisi 4.63 km
Transportation
Sabiha Gökçen Havalimanı 52.98 km
Gölcük Şehirlerarası Otobüs Terminali 4.06 km
Hotel Policies
Check-in time 14:00 - Check-out time 12:00
Extra bed is provided.
Child accepted
Hotel do not accept pet.
Hotel do not accept guidance dog.
Languages Spoken at The Property
Payment Types
Debit Card
Visa
Mastercard
Cash
Amex
Hotel Facilities

Internet Connection - Wireless
Internet Connection – Wired
Wheelchair Friendly
Aircondition
Facilities for Disabled Guests
Non Smoking Room
Mini Market
Photo Service
Meeting Room
Laundry
Fax / Xerox
Ironing Service
Game Arcade
Lobby
Masjid
Worship Room
Sunbathing Terrace
Terrace
Garden
Disabled Parking
Indoor Restaurant
Outdoor Restaurant
A La Carte Restaurant
Restaurant
Lobby Bar
Halal Buffet
Kids Buffet
Kids Menu
Room Service
Snack Bar
Bar
Reception Service for 24 Hours
Safety Deposit Box
Baggage Room
Vale Service
Concierge
Bath
Fitness Center
SPA
SPA
Massage
Sauna
Sports Information
Dressing Room / Fitness
Spa Lounge
Steam Room

Show More (+57)

thermal pool
Indoor Pool
Outdoor Pool
Kids Pool

Table Football
Table Tennis
Billard
Private Fitness Coaching
Show Hotel
Comments (21)
Guest comments are taken from the Otelpuan website and only belong to guests who have made a reservation through Etstur or Odamax.
Temiz bir tesisti. Otelde hiçbir sorun yaşamadık. Personeller çok ilgililerdi. Çok teşekkür ederim onlarada. Otele giriş çıkış işlemlerimizi hızlıca gerçekleştirdiler.
Otel ismi değişti. Yeni sahipleri misafirlerle ilgilenmiyor. Kalitesiz personeller vardı. Tek bir personel vardı o iyiydi. Bayram boyunca canlı müzik yoktu.
Kaldığım odada elektrikli kart 3- 4 defa kapıyı açamadı kasayı da açmadı arıza olmamalıydı bu bakımdan hoşuma gitmedi 1 kaç defa tekrarladı hoşuma gitmedi otel fena değil iyiydi otelin konumu iyiydi odamın camı çok kirliydi dışarısını göremiyordum hiç hoşuma gitmedi tavsiye etmem , otel konsept ola ... rak aile oteliydi.
Tesiste 2 gece konakladık personel çok ilgili ve güler yüzlüydü. Ramazan olduğu için otel çok sakindi. Kahvaltı açık büfeydi fakat ramazandan dolayı çeşit azdı. Odalar güzel ferah ama daha temiz olabilirdi. Konaklayan sayısı az olduğundan temizliğe özenilmeliydi. Termal havuzun büyüklüğü iyiydi fak ... at çok sıcaktı. Havuza bonesiz girmek yasaktı ama internet sitenizde bu bilgi mevcut değil. Bir de havuz içerisinde denetim olmadı normal kıyafet ile ve bonesiz girenler oldu.
Otel müdürü ve tüm otel çalışanlarına çok teşekkür ederiz. Yemekler lezzetliydi, ortak alanlar temizdi. Her sene konakladığımız bu güzel otele umarım tekrar geliriz.