Specially selected for search criteria!
Best option for 2 adult(s) at this property.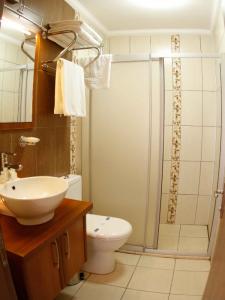 Double, Sea view,
Breakfast Included

Non Refundable

You can pay in 12 instalments

2 Adult(s) Can Accommodate
General information
Welcoming the guests in Istanbul Pendik, located close to the trade centers, Sahil Boutique Hotel offers an accommodation free of stress at seaside.
All taxes except for accommodation tax are included in the prices.
Extra beds cannot be guaranteed for our guests staying free of charge.
Hotel Policies
Check-in time 14:00 - Check-out time 12:00
Hotel do not accept pet.
Hotel do not accept guidance dog.
Hotel do not provide extra bed
What's Nearby
Süreyya Operası 25.0 km
Tuzla Termal Tesisleri Mini Hayvanat Bahçesi 2.52 km
Historical Places
İlkfer Denizcilik Müzesi 60 m
Özel Doğa Bilim Müzesi 680 m
Transportation
Sabiha Gökçen Havalimanı 6.7 km
Güzelyalı Terminali 820 m
Hotel Policies
Check-in time 14:00 - Check-out time 12:00
Hotel do not accept pet.
Hotel do not accept guidance dog.
Hotel do not provide extra bed
Languages Spoken at The Property
Hotel Facilities

24-hour front desk
Currency exchange (Paid)
Luggage storage
Lockers (Paid)
Restaurant (Paid)
Room service (Paid)
Shuttle service (surcharge) (Paid)
Parking Onsite
Garden
Terrace
Games room
Dry Cleaning (Paid)
Laundry (Paid)
Elevator
Internet Access – Wireless
Lobby

Show More (+7)
Show Hotel
Comments (10)
Guest comments are taken from the Otelpuan website and only belong to guests who have made a reservation through Etstur or Odamax.
Biz odaya giriş yaptığımızda odada çok kötü bir sigara kokusu vardı yani bunun giderilmiş bir şekilde bize teslim edilmesi gerekiyordu. Ya da sigara içilmez oda teslim edilmesi gerekirdi. Bu sigara kokusu bir gün boyunca hiç odadan çıkmadı o kadar çok sigara içilmişti. Sigara içilmeyen oda değil no ... rmal bir oda aldım ama yani odayı sanırım yeni boşaltmışlardı. Yani şimdi fiyat performans dengesine bakılırsa çok lüks bir otel olmadığı zaten belli hani bundan büyük bir beklenti içinde olmakta yanlıştı. Şunun yapılmasını isterdik. Otelde tadilat vardı ve otelde tadilat varken otelin kapatılması lazım. Bence yani otelde tadilat varken müşteri kabul olmamalı yani hangi konu olursa olsun. Çünkü ses o adamı rahatsız ediyor. Ben çok yorgun olabilirim olmayabilirim dinlenmek isteyebilirim. Böyle bir şey vardı yani bize belki onlar bizim yenilenmesi için veya hizmet sunmak için böyle bir şey yapıyorlar ayrı mesela ama yine de tadilat varken müşteri kabul yapmaması gerekirdi. Ben aynı otelde daha önce de konakladım. Otel konum olarak benim için uygundu. Ben işime uygun yerde konaklama tercih ettim. Çift olarak konaklama tipine tavsiye ederim. Ben çift olarak konaklama yaptım.
Rezervasyonum otelde görünmüyordu, bize istemediğimiz odayı verdiler. Çift kişilik yatakları yoktu, iki tekli yatağı birleştirip çift yatak olarak verdiler, çift kişilik yorganı bile yoktu. Hizmet kötü, muamele kötü.
Kahvaltı güzeldi. Odalar temizdi. Personel yardımseverdi.
Temiz bir oteldi. Kahvaltısı güzeldi. Konumu güzeldi. Personelleri ilgiliydi.
Personelleri ilgiliydi. Konumu iyiydi. Oda temizdi. Kahvaltısı güzeldi.