Specially selected for search criteria!
Best option for 2 adult(s) at this property.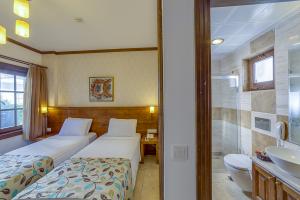 Economic Room, Garden view
Breakfast Included

Non Refundable

You can pay in 12 instalments

2 Adult(s) Can Accommodate
TRY 2,448
TRY 0 members only
General information
Providing service in Datca, Orcey Hotel welcomes guests in a building suitable to the architecture of the region. Pool is available in the garden of the property which is at a striking distance to blue flag beach. Delicious breakfast is also served.
All taxes are included in the prices.
Extra beds cannot be guaranteed for our guests staying free of charge.
Hotel Policies
Check-in time 14:00 - Check-out time 12:00
Extra bed is provided.
Child accepted
Hotel do not accept guidance dog.
Hotel do not accept pet.
What's Nearby
Tiyatro Ve Konser Yeri 40.85 km
Bodrum Kalesi 40.85 km
Historical Places
Yamaç Evleri 28.15 km
Knidos Antik Kenti 28.56 km
Transportation
Muğla Milas Bodrum Havalimanı 57.22 km
Datça Otogarı 750 m
Hotel Policies
Check-in time 14:00 - Check-out time 12:00
Extra bed is provided.
Child accepted
Hotel do not accept guidance dog.
Hotel do not accept pet.
Languages Spoken at The Property
Hotel Facilities

Safety Deposit Box
Bar (Paid)
Ironing Service (Paid)
Garden
Room Service (Paid)
Pier
Reception Service for 24 Hours
hotel car park
Laundry (Paid)
Internet Connection - Wireless

Show More (+4)

Parasol
Beach Sunbed
Kids Pool
Outdoor Pool
Show Hotel
Comments (133)
Guest comments are taken from the Otelpuan website and only belong to guests who have made a reservation through Etstur or Odamax.
Tesisin konumu güzel sabah kahvaltısı ve kahvaltıda ki hizmetten memnun kaldık. Oda temizliği daha iyi yapılabilir ayrıca pencere ve kapılara sineklik gerekmektedir.
Personel çok ilgiliydi , temizlik kusursuzdu, çok memnun kaldık.
Otel konumu merkeze yakındı. Temizlikte bir sıkıntı görmedik. Kahvaltı imkanları biraz daha düzenli temiz olabilirdi. Kahvaltıdaki personel biraz ilgisiz geldi. Daha güler yüzlü olabilirler. Eldiven takmıyorlardı. Tesise çok kedi köpek giriyor. Özellikle kahvaltı alnında da vardı. Tüyler falan oluy ... ordu. Genel anlamda memnunduk.
Yani diğer otellerden farklı oluşu güzeldi. İçerisindeki doğa ve hoş ambiyansıyla artı güzel hizmetiyle temizliğiyle konforuyla kesinlikle tavsiye ederim. Personeller gayet iyiydi. Personellerle alakalı da hep olumlu şekilde dönüş sağlayabilirim hiçbir sorun yaşamadık. Aile, çift, arkadaş ve tek ol ... arak konaklamaya uygun bir oteldi. Hepsini uygun en azından aile ama öncelikle diyebilirim çünkü bende bebeğimle ve eşimle geldim yani ailecek geldik dolayısıyla aile olarak inanılmaz rahat ve konforluydu.
Tesis temizdi. Konum olarak iyiydi, merkeze çok yakın ama bir o kadarda sakin bir bölgede. Personeller yardımsever ve güler yüzlüydü. Sezon olmamasına rağmen etraf ve bahçe derli ve topluydu. Tesis yetkilisi bölgedeki esnaf, restoran ve barlar hakkında bilgi verdi bize iyi hizmet veren yerlere ul ... aşmamızı sağladı. Çevremdeki insanlar kişi başı mı bu ücret diye sordular ama 2 kişi 2 gece konakladık . Fiyat performans olarak iyiydi. Oda genişliği yeterliydi. Balkonu vardı ve denize bakıyordu bir çoğu deniz görüyor. Giriş çıkış işlemleri hızlı gerçekleşti.