Specially selected for search criteria!
Best option for 2 adult(s) at this property.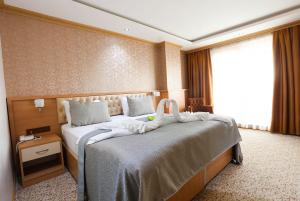 Double, City View,
Breakfast Included

Non Refundable

You can pay in 12 instalments

2 Adult(s) Can Accommodate
TRY 1,400
TRY 0 members only
All taxes are included in the prices.
Extra beds cannot be guaranteed for our guests staying free of charge.
Hotel Policies
Check-in time 13:00 - Check-out time 12:00
Extra bed is provided.
Hotel do not accept pet.
Hotel do not accept guidance dog.
What's Nearby
Sivas Kalesi 1.18 km
Sivas Park Prime Mall AVM 3.28 km
Historical Places
Tüdemsaş Müzesi 1.41 km
Sivas Arkeloji Müzesi 2.01 km
Transportation
Sivas Nuri Demirağ Havalimanı 23.98 km
İlçe Belde Ve Köy Terminali 1.19 km
Hotel Policies
Check-in time 13:00 - Check-out time 12:00
Extra bed is provided.
Hotel do not accept pet.
Hotel do not accept guidance dog.
Languages Spoken at The Property
Payment Types
Amex
Cash
Debit Card
Mastercard
Visa
Hotel Facilities

24-hour front desk
Non-smoking rooms
Elevator
Air conditioning
Heating
Internet Access – Wireless
Lobby
Adult Only (+16)
Covid-19 Önlemi Almış Otel
Parking Outside
Garden
Terrace
Shared lounge/TV area
Praying room
Daily maid service
Fax/photocopying
Designated smoking area
Valet parking (Paid)
Luggage storage (Paid)
Lockers (Paid)
Restaurant (Paid)
Restaurant (buffet) (Paid)
Room service (Paid)
Dry Cleaning (Paid)
Ironing service (Paid)
Laundry (Paid)

Show More (+20)
Show Hotel
Comments (19)
Guest comments are taken from the Otelpuan website and only belong to guests who have made a reservation through Etstur or Odamax.
Memnun kaldık tesisin ısınması iyiydi sıcaktı yani. Tesis genel anlamda temizdi. Konaklama süresi boyunca konforlu ve rahat hissettik.
Oda bakımsız ve yıkık döküktü. Sabah 9dan sonra sıcak su yoktu. Lavabo kırıktı ve cam kapanmıyordu. Ulasım kolaydı. Personeller güler yüzlüydü ve kılık kıyafet iyiydi.
Ben tesisi beğendim. Güzel bir tesisti. Bir sorunum olmadı. Ulaşımımı da kendi özel aracımla sağladım ama zaten tesis merkezi bir yerdeydi toplu taşıma araçlarına yakındı. Aracı olmayan misafirler kolaylıkla ulaşabilir. Tesisin genel olarak ortak alanlarındaki temizliği de iyiydi. Ben hizmete dahil ... kahvaltıdan yararlandım lezzet ve çeşitlilik bakımından da kahvaltı yeterliydi. Restoran bölümünde kahvaltımızı yaptık. Ben iş amacıyla değil de farklı bir nedenden dolayı konaklama sağladım. Aile tesisi olabileceği yönünde pek gözleme sahip olamadım. Tesiste aile pek fazla görmedim.
Otelin temizliği olsun personelin ilgisi güler yüzü icin teşekkür ederiz.
Ek yatak olarak yer yatağı yapılmıştı çocuk için. Odada asansör sesinden ve havalandırma sesinden tüm gece zor uyuduk. Bizden önce kalanların çöpü atılmamıştı. Banyo dolabının bir tarafı çürümüştü. Balkon kapısı kırıktı. Ne açılıyor, ne tam kapanıyor. Balkon çok pisti. Kahvaltıda çeşit yeterliydi a ... ma bazı ürünler bayattı, kurabiye, börek ürünleri.