Specially selected for search criteria!
Best option for 2 adult(s) at this property.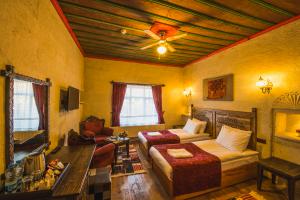 , Valley View, EN
Breakfast Included

Non Refundable

You can pay in 12 instalments

Available for 2 Adult(s) and 1 Kid(s)
15% Early Booking Discount
TRY 2,093
TRY 1,779
TRY 0 members only
All taxes except for accommodation tax are included in the prices.
Extra beds cannot be guaranteed for our guests staying free of charge.
Hotel Policies
Check-in time 14:00 - Check-out time 11:00
Hotel accept pet.
Extra bed is provided.
Child accepted
Hotel do not accept guidance dog.
What's Nearby
Ahiler Kalkınma Ajansı Konferans Salonu 13.34 km
Yeraltı Mağarası 3.29 km
Historical Places
Hanedan Kervansaray 3.51 km
Göreme Açık Hava Müzesi 3.67 km
Transportation
Nevşehir Kapadokya Havalimanı 47.99 km
Göreme Otogarı 3.38 km
Hotel Policies
Check-in time 14:00 - Check-out time 11:00
Hotel accept pet.
Extra bed is provided.
Child accepted
Hotel do not accept guidance dog.
Languages Spoken at The Property
Payment Types
Debit Card
Visa
Maestro
Mastercard
Electron
Cash
Paypal
Hotel Facilities

Rent a Bicycle
Rent a Car
Airport Transfer
hotel car park
Non Smoking Room
Jacuzzi
Reception Service for 24 Hours
Lobby
Concierge
Vale Service
Baggage Room
Safety Deposit Box
A La Carte Restaurant
Outdoor Restaurant
Indoor Restaurant
Restaurant
Snack Bar
Personal Diet Menu (On demand)
Room Service
Halal Buffet
Garden
Terrace
Sunbathing Terrace
Kids Playground
Kids Park / Outdoor
Stroller
Ironing Service
Laundry
Meeting Room

Show More (+33)
Show Hotel
Comments (63)
Guest comments are taken from the Otelpuan website and only belong to guests who have made a reservation through Etstur or Odamax.
Personeller tarafından yeterli bilgi alamadım. Bilgilendirme yapılamadı. Mekanı bulunduğu ortamı güzeldi.
Her şey çok güzeldi. Teşekkürler ☺️.
Otel çok güzeldi kahvaltısı muhteşemdi hele sabah balonların görüntüsü harikaydı çok yakınımızdan geçtiler ayrıca biyerlere gidip izlemeye gerek kalmadı oda sıcacıktı herşey için teşekkürler.
Otel çavuşin bölgesinde idi ve gerçekten çok iyiydi. Genellikle antalyada 5 yıldızlı otellerde konaklayan biri olarak söylüyorum beklentimin çok çok üstünde idi. Temizlik , oda ısınma sistemi , otel peri bacasının dibinde olması , tüm odalarının peri bacası ve manzarayı görüyor olması , araç otopar ... kı ve geniş bir bahçesi olması , balonların tam üstünden geçmesi ve arka tarafta da yine izlenebilir bir terasının olması vb bir sürü olumlu özelliği vardı. Ayrıca konum olarak avanos-göreme-ürgüp ün tam ortasında oluşu da harika idi. Otel taş yapı olması sebebiyle de otantik bir hava katıyordu. Sabah yaptığımız kahvaltı da gerçekten çok iyi ve lezzetliydi. Odayı da ilk verirken gül yapraklarıyla süslemeleri ve meyve tabağı sunmaları da çok ince idi. Şunu belirteyim balonları görmek için sabah 6-8 arasında bahçeye çıkmanız yeterli. Ayrıca otelin hemen yanında orman cafe-restourant diye bir yer var. Oranın da lezzeti ve fiyatları harikası. Otelin tavsiyesi ile gittik ve çok beğendik. Akşam yemeğininizi yürüyerek gidip orada yiyebilirsiniz. Umarım gerekli bilgileri verebilmişimdir . Herkese iyi tatiller dilerim.
Meyve sepeti ikramımız gelmedi.