Specially selected for search criteria!
Best option for 2 adult(s) at this property.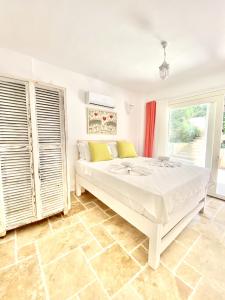 Standard Room, Land view
Breakfast Included

Non Refundable

You can pay in 12 instalments

2 Adult(s) Can Accommodate
48% Early Booking Discount
General information
Positioned in Kas, one of the favorite holiday districts of Antalya, Club Barbarossa Hotel & Villas offers a tranquil holiday opportunity to the guests with villa concept.
All taxes except for accommodation tax are included in the prices.
Extra beds cannot be guaranteed for our guests staying free of charge.
Hotel Policies
Check-in time 14:00 - Check-out time 10:00
Guide dog accepted
Extra bed is provided.
Child accepted
Hotel accept pet.
What's Nearby
Mavi Mağara 13.12 km
Gizlikent Şelalesi 36.67 km
Historical Places
Antiphellos Antik Kenti 3.62 km
Kyaneai Ören Yeri 21.03 km
Transportation
Muğla Dalaman Havalimanı 93.1 km
Kaş Belediyesi Otogarı 3.96 km
Hotel Policies
Check-in time 14:00 - Check-out time 10:00
Guide dog accepted
Extra bed is provided.
Child accepted
Hotel accept pet.
Languages Spoken at The Property
Payment Types
Debit Card
Visa
Mastercard
Maestro
Cash
Hotel Facilities

Non Smoking Room
Aircondition
Meeting Room
Library
Lobby
Baby Security Handrail
hotel car park
Restaurant (Paid)
Bar (Paid)

Show More (+4)

Outdoor Pool
Parasol
Pool - Sea Water
Beach Sunbed

Table Tennis
Canoe (Paid)
Show Hotel
Comments (184)
Guest comments are taken from the Otelpuan website and only belong to guests who have made a reservation through Etstur or Odamax.
Tesisin konumu gerçekten harikaydı. Personelin ilgili tavrı ve misafirperverliği tatilimizin daha konforlu geçmesini sağladı.
Otele kafa dinleme amacıyla eşimle birlikte geldik . Bahçe manzaralı oda tercih etmiştik ancak girdiğimiz gibi banyosunda kirli çoraplarla karşılaşınca otel kat görevlisi ertesi gün bizi deniz manzaralı bir odaya yükselterek hatalarını telafi etmeye çalışmaları tabiki de hoşumuza gitti. Otelin tekn ... ik tadilat çalışmaları misafirleri olmasına rağmen tamamlanmamıştı. Kahvaltı çok çeşitli olmamakla birlikte sıcacık pideleri ve omlet ile birlikte gayet doyurucuydu. Otel personeli bir okadar güler yüzlü ancak çokça acemiydi. Aynı şeyi otelin işletme pazarlama müdürü için söyleyemicem. Çıkış yaparken odada küf kokusu olduğunu beyan ettiğim de çok ukala ve tebessümsüz bir üslupla keşke bahçe manzaralı oda da kalsaydınız cümlesi çalışanları kadar işini ve misafiri sevmediğini gösteriyordu. Genel olarak otelde hakim olan duygu şu ; aslında mükemmel olabilecekken koordine eksikliğinden kaynaklanan amatörlük hakim. Sanırım zaten lokasyon güzel gelen gelir gelmeyen gelmez mantığındalar. Ancak yine ve yine altını çizmeliyim tatilden ne istediğinizde ilgili olarak kişiden kişiye değişkenlik gösterebilen bir otel olup biz keyifle ayrıldık.
Bayram tatili 3 gun kafa dinlemek icin esimle tercih ettik oteli,eski bir otel ancak pek bakim yapilmamis,odalar hijyenik degildi ve wc kokuyordu oda,tur sitesi uzerinden kiraladigimiz icin mi boylesine kotu bir oda verildi yoksa tum odalari boyle kotu mu bilmedik acikcasi. Ayrica otel bunyesinde, ... daha pahali kiraladiklari villa kisimlari da varmis,standart oda da kaliyorsaniz aman ha dikkatli olun villada kisminda kalanlara karsi,öyle ki o villalarda kalan musterileri disaridan gormeye gelen misafirleri bile (otelde kalmayan-musterı olmayan) sizlerden cok daha kiymetlidirler. . O disaridan gelen,musteri bile olmayan misafirler her an sizi oturdugunuz şezlongunuzdan kaldirip kovabilir,esyalarinizi toplatabilir( otel bunyesinde villa musterileri ile standart oda musterileri arasinda sinif farki gozetilmis olup,ayni yerden denize bile giremezsiniz) parasi ile rezil olmak isteyen herkese tavsiye ederim bu oteli.
Tesis konum çok güzeldi iş için kalmıştık öncesinde de bir de personeller iyiydi odalar iyiydi konforluydu tabi ki beklentilerimi karşıladı memnun kaldım.
Otel deniz çok yakın denize sıfır gibi diyebilirim yakın baya uyanır uyanmaz denize gireme şansımız oldu boş bir oda vardı o olunca bize ücretsiz o odaya geçirdiler ve yanımızda köpeğimiz vardı köpeğimiz ile bize çok kolay imkan sağladılar. Otelin bunun dışında personeller ilgili nazik ve güler yüz ... lülerdi. Otel işletmeciside çok ilgiliydi. Otele iki kadın gittik ve otel güvenlik açısından çok iyiydi iki kadın sıkıntı yaşamadık. Tam sezon başlamamasına rağmen çok huzurlu tatil oldu.