General information
Located close to the significant spots of Anatolian side, Bof Hotels Ceo Suites Ataşehir offers an enjoyable holiday opportunity with elegant and comfortable rooms, rich facilities and 5 km distance to Atasehir Bus Terminal.
Located in district Atasehir of Istanbul, Bof Hotels Ceo Suites Atasehir invites guests to a comfortable accommodation experience both for business and touristic trips. Providing ease of access to the important spots of Anatolidan Side, the property features amenities like LCD TV, air-conditioner, microwave oven, refrigerator and sitting room in its modern 200 rooms. You can try exclusive flavours from Turkish and world cuisines in its restaurant and relieve the tiredness of the day at the bar which offers delicious drinks. Besides, you can refresh yourself with its outdoor pool, Turkish bath and steam room.
Important information
Check-in time 14:00 Check-out time 12:00
Extra bed is provided.
Child accepted
5 years at Odamax
Hotel do not accept pet.
Hotel do not accept guidance dog.
Extra beds cannot be guaranteed for our guests staying free of charge.
Bar

Outdoor Pool

Wireless Internet

Sports Information
Featured Reviews
Show All Comments (768)
Tek kişilik konaklamalar için uygun aile için uygun bir otel değildi. Konum açısından iyi ve temiz bir tesisti.
Nar Point AVM 1052 m
Mavi Uçurtma Komedi Sahnesi 1184 m
Aliya İzzet Begoviç Kültür Ve Eğitim Merkezi 1256 m
Soyak Yenişehir Metro İstasyonu 1645 m
Kayışdağı Metro İstasyonu 1755 m
M5 - Altınşehir Metro İstasyonu 1806 m
Specially selected for search criteria!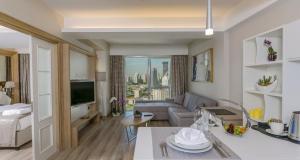 , City View
Room Only

You can pay in 12 instalments

No prepayment

Free Cancelation
+ This room can accommodate a maximum of 2 adults and 1 children.
For 1 Night , 2 Guest 1 Room Total Amount
1,525 TL
Hotel Facilities
Bath (Paid)
Reception Service for 24 Hours
Meeting Room (Paid)
Garden
Steam Room
Massage (Paid)
Rent a Car (Paid)
Baggage Room
Restaurant (Paid)
Terrace
Laundry (Paid)
Sports Information
Lobby
Internet Connection - Wireless
Languages spoken at the property
Payment Types
Visa
Mastercard
Cash
Amex
Comments
768 Comment of verified guest
Guest comments are taken from the Otelpuan website and only belong to guests who have made a reservation through Etstur or Odamax.
8.3
Very good
%86 is recommended.
Tek kişilik konaklamalar için uygun aile için uygun bir otel değildi. Konum açısından iyi ve temiz bir tesisti.
Odalar büyük ve rahat temiz bir otel. Personelleri ilgililer. Kahvaltısı da çok güzel.
Otelin sessiz olmasını beğendim. Konum olarak güzeldi. Personel ilgi ve alakası güzeldi.
Gayet güzel temiz bir tesis. Konumu güzeldi. Personelleri ilgiliydi.