Specially selected for search criteria!
Best option for 2 adult(s) at this property.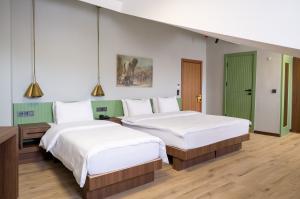 , Nature View
Breakfast Included

Non Refundable

You can pay in 12 instalments

2 Adult(s) Can Accommodate
TRY 1,600
TRY 1,520
TRY 0 members only
General information
Located at a unique point where sea and green come together in Kadirga Bay, Assos Troy Beach offers an unmatched holiday experience.


All taxes except for accommodation tax are included in the prices.
Extra beds cannot be guaranteed for our guests staying free of charge.
Hotel Policies
Check-in time 14:00 - Check-out time 11:00
Extra bed is provided.
Child accepted
Hotel do not accept pet.
Hotel do not accept guidance dog.
What's Nearby
Baş Değirmen Şelalesi 26.1 km
Afrodit Kaplıcası 21.51 km
Historical Places
Assos Antik Kenti 2.99 km
Apollon Smintheion 22.22 km
Transportation
Balıkesir Koca Seyit Havalimanı 70.79 km
Ayvacık Otogarı 12.58 km
Hotel Policies
Check-in time 14:00 - Check-out time 11:00
Extra bed is provided.
Child accepted
Hotel do not accept pet.
Hotel do not accept guidance dog.
Languages Spoken at The Property
English

Turkish

German

Chinese
Hotel Facilities

Vale Service
Fax / Xerox
Jacuzzi
Pier
Concierge
Baggage Room
Safety Deposit Box
Reception Service for 24 Hours
Beach Volleyball
Bar
Snack Bar (Paid)
Room Service (Paid)
Kids Menu
Kids Buffet
Lobby Bar
Restaurant (Paid)
A La Carte Restaurant
Outdoor Restaurant
Indoor Restaurant
Rent a Bicycle
Rent a Car
Airport Transfer (Paid)
hotel car park
Parking Area (Outside Hotel)
Garden
Terrace
Sunbathing Terrace
Library
Lobby
Free WIFI
Baby/Kid Care Service
Ironing Service
Meeting Room (Paid)
Photo Service (Paid)
Electric Vehicle Charging Station
Non Smoking Room
Aircondition
By the Coast
VIP Airport Transfer (Paid)

Show More (+52)

Beach Sunbed
Kids Pool
Outdoor Pool

Catamaran (Paid)
Dart
Canoe (Paid)
Table Tennis
Show Hotel
Comments (310)
Guest comments are taken from the Otelpuan website and only belong to guests who have made a reservation through Etstur or Odamax.
Tesis çok temizdi. Bahçesi ve deniz kenarına yakın olması çok güzeldi. Genel müdür olmak üzere tüm çalışanlar oldukça ilgili güler yüzlü ve samimiydi. Mutlaka tekrar gitmeyi düşündüğümüz yerler arasına aldık.
Tesiste yaz sezonu dışında bir gece konakladık. Tesise ulaşım kolay,otopark mevcut,odaları yeni ve güzeldi. Kahvaltısı ve alakart restoranı iyiydi. Çalışanlardan da son derece memnun kaldık.
Konumu güzeldi. Sezon açılmadığı için sahil kısmı bakımsızdı. Personel ilgiliydi ancak personel sayısına göre daha fazla misafir olduğu için serviste ufak tefek gecikmeler oldu; kahvelerin soğuk gelmesi gibi. Kaldığımız oda bahçe ve deniz manzaralıydı, balkonunda zaman geçirmek keyifliydi. Banyoda ... bazı küçük aksaklıklar vardı, düzeltilmesini istediğimizde hemen ilgilenildi. Kahvaltı için 10 üzerinden 7,5 diyebiliriz.
Kaldığım 201 numaralı odanın banyosunda adeta karınca yuvası vardı. İlaçlamalarını ve temizlemelerini belirtmeme rağmen gereken yapılmadı. Talep halinde sunabileceğim görüntüler de mevcut. Ayrıca işletme de her ne kadar personel ilgili ve güler yüzlü olsa da servis hızları çok yetersizdi. Kahvaltın ... ızda çayı ve/veya ekmeği birkaç defa istemeniz gerekiyor. Çayınız veya ekmeğiniz gelesiye kahvaltınız soğuyor. Odaları çocuklu aileler için çok da uygun değil, en azından bize uygun değildi. Genellikle gece lambası olarak kullanabilmek için kısık bir aydınlatma olması gerekirken böyle bir imkan mevcut değildi. Sivri sinek gelebileceği için balkon kapımızı açık bırakmamız tavsiye edildi(bu konuya bir çözüm üretilmemiş), fakat zaten o balkon kapısı bozuk olduğu için muntazam bir şekilde kapatmanız mümkün olmuyordu. Dönem itibari ile birçok 5 yıldızlı otelde konaklanabilecek bedeli buraya ödemiş olmaktan fazlası ile pişmanız.